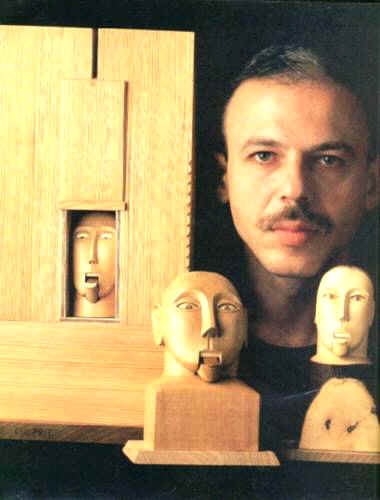 Crafts Magazine Nov. 87
it is a long time since I had this much hair, but I am still carving.
Automata, Figures, Puppets and
theatre scenery and utility object or just objects.

Currently my work is exhibited in FLOW (Needham Rd London W11)
I also teach - so if you would like to learn more come to my evening classes in RICHMOND ADULT COMMUNITY COLLAGE:
I spent happy 5 years in Little Angel Theatre where I carved puppets and scenery for number of shows, including the Elves and the Shoemaker and Noah's Arc
And apart from the carving I am an ardent supporter of Sunderland so if you'd like you can chat to me about football too, I will be delighted.
This page was last updated on 09/24/11.